Home-product:
LG956 wheel loader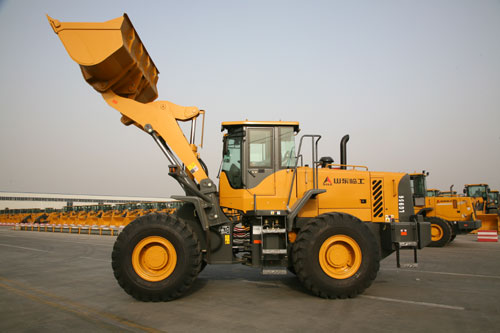 LG956 wheel loader specifications:
NO.
item
Parameter
1
Model
Cummins 6CTA8.3-C215
2
Rated power
160KW
3
Rated Speed
2200r/min
4
Bucket capacity
3.0 steres
5
Rated load
5000kg
6
Max traction force
≥150kN
7
travel speed
F:0-38km/h
R:0-17Km/h
8
Min turning radius
6044mm
6707mm(outside of bucket)
9
Max breakout force
≥160kN
10
Max Grade Ability
30
11
Raising time(full load)
5.5s
12
The sum of three items
905s
13
Dimension(L*W*H)
8020*3050*3382mm
14
Max dumping height
3120mm
15
Min dumping reach
1120mm
16
Bucket width
3050mm
17
Wheel base
3200mm
18
Wheel track
2144mm
19
Weight
17000kg
LG956 wheel loader performance features:
The machine has large boom lifting capacity, middle articulation, widened wheelbase, 8.02m overall length, and higher stability. The boom can lift materials of 11 tons in the lifting scope of 1.6m, which is very suitable for heavy material operation.
The boom's lifting operation only need 5.7 seconds, and the three kinds of bucket operation only needs 9.5 seconds, so LG956 is one of the loaders that has fastest operation speed in the industry.
The loader has big bucket withdrawal angle and high full-load coefficient, which solved the conventional problem that the bucket can not be filled full. The bucket structure is optimized, and it is made of special materials and high strength wear-resistant blade, which contributes to longer service life.
The loader takes enlarged engine housing and efficient radiator, and the wind passages in the whole cooling system are also optimized, which efficiently reduced the engine water temperature and the oil temperature in hydraulic system, and improves the cooling efficiency of the machine.
The new type wide-view cab has a full-closed design and optimized wind passage which sends wind from the front. It is equipped with luxurious internal decorations as used in cars, mechanical suspension seat, and outside-mounted air conditioner and warming devices, thus the cab is more spacious for operation.
New type vibration absorbers are applied in the connection between the engine, transmission, cab and frame, and the operator will feel more comfort during operation.
The machine takes patented new box type Lingong frame, which is more durable.
The Lingong standard dual seal coupling for hydraulic pipeline thoroughly avoids leakage.
The bearings are all full-closed type, which prevents dusts and improves the bearings' service life.
Related wheel loaders:
SUNYO wheel loaders

SDLG wheel loaders:
China Wheel Loader Brands: SDLG wheel loader,Changlin wheel loader,SEM Wheel Loader, Liugong wheelloader, XCMG wheel loader, XGMA wheel loaders, Lonking wheel loaders, Shantui wheel loaders. Spare Parts available as well.