Home-product:
wheel loader
Attention:
please click the following list, to check the details.
SUNYO series wheel loader
SDLG series wheel loader
Analysis on the Price Trend of Chinese Wheel Loader in 2017:
As a whole, the price increase of small-sized chinese wheel loader is more than 10,000 yuan per unit, while the price increase of large-sized products (over 5 tons) is mostly 20,000 yuan per unit. In the notice of price increases, it is generally mentioned that the price of steel and rubber have risen a lot, resulting in a substantial increase in procurement costs. In the construction machinery industry, the previous product price adjustment, the chinese wheel loader is relatively dominant, and has a leading. The main reasons include: the product has early cycle properties, a higher proportion of steel cost, lower gross margin products, changes in the absolute price range is small and easy to be accepted by customers. Industry demand picks up: From January to July 2017, the sales volume of major chinese wheel loader in China totaled 51,948 units, up 37.0% over the same period of previous year. Downstream chinese wheel loader applications include infrastructure construction, mining, farmland water conservancy, real estate construction and other fixed asset investment projects. chinese wheel loader in the project, usually with excavators, bulldozers and other to form a joint operation, the chinese wheel loader are characterized by a large amount of earth loading, transfer faster, especially on the heavy truck loaded on a higher efficiency.

Since 2017, the sales in the chinese wheel loader industry showed a good growth, and the gross profit margin of the corresponding businesses of major companies has been raised. From the raw material market, the average plate and plate prices reached RMB3,787 / t in July-August 2017, up from RMB2,387 / t in the second quarter of 2016 and RMB2,663 / t in the third quarter of 2016 respectively. Up 11.8% and 42.2%. Assuming steel procurement equates to 10% of the chinese wheel loader sales revenue, if the average purchase price of steel increases by 40-50%, the corresponding cost pressure will need to be adjusted by 4 ~ 5% of chinese wheel loader price to be digested. chinese wheel loader r average unit price of 200,000 yuan by calculation, the actual needs of the corresponding increase of about 10,000 yuan
2016 Chinese Wheel Loader market: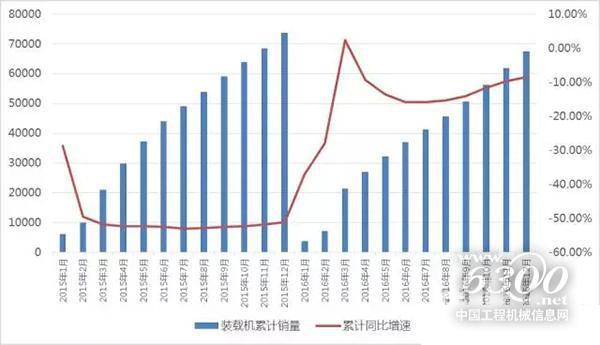 In 2016, the chinese wheel loader sold a total of 53,249 units in chinese market

In 2016, the chinese wheel loader sale A year-on-year decrease of 7.57%

In 2016, the chinese wheel loader exported volume of 14,126 units,

In 2016, the chinese wheel loader representing a year-on-year decrease of 11.55%.


Wheel Loader Introduction:
Wheel loader is a type of construction equipment (engineering vehicle) machinery that is primarily used to "load" material (asphalt, demolition debris, dirt, feed, gravel, logs, raw minerals, recycled material, rock, sand, wood chips, etc.) into or onto another type of machinery (dump truck, conveyor belt, feed-hooper, rail-car, etc.)
Wheel loader (also known as: bucket loader, front loader, front end loader, payloader, scoop loader, shovel, skip loader, and/or wheel loader) is a type of tractor, usually wheeled, sometimes on tracks, that has a front mounted square wide bucket connected to the end of two booms (arms) to scoop up loose material from the ground, such as dirt, sand or gravel, and move it from one place to another without pushing the material across the ground. A loader is commonly used to move a stockpiled material from ground level and deposit it into an awaiting dump truck or into a open trench excavation.
The loader assembly may be a removable attachment or permanently mounted. Often the bucket can be replaced with other devices or tools--for example, many can mount forks to lift heavy pallets or shipping containers, and a hydraulically opening "clamshell" bucket allows a loader to act as a light dozer or scraper. The bucket can also be augmented with devices like a bale grappler for handling large bales of hay or straw.
Large loaders usually have only a front bucket and are called Front Loaders, whereas small loader tractors are often also equipped with a small backhoe and are called backhoe loaders or loader backhoes.
The largest loader in the world is LeTourneau L-2350. Currently these large loaders are in production in the Longview, Texas facility. The L-2350 uses a diesel electric propulsion system simlilar to that used in a locomotive. Each rubber tire wheel is driven by its own independent electric motor.
Wheel loader are used mainly for uploading materials into trucks, laying pipe, clearing rubble, and digging. A loader is not the most efficient machine for digging, as it cannot dig very deep below the level of its wheels, like a backhoe can. Their deep bucket can usually store about 3-6 cubic meters (exact number varies with the model) of earth. The front loader s bucket capacity is much bigger than a bucket capacity of a backhoe loader. Loaders are not classified as earthmoving machinery, as their primary purpose is other than earthmoving.
Unlike most bulldozers, most loaders are wheeled and not tracked, although track loaders are common. They are successful where sharp edged materials in construction debris would damage rubber wheels, or where the ground is soft and muddy. Wheels provide better mobility and speed and do not damage paved roads as much as tracks but provide less traction.
In construction areas loaders are also used to transport building materials - such as bricks, pipe, metal bars, and digging tools - over short distances.
Wheel loader are also used for snow removal, using their bucket or a snow basket, but usually using a snowplow attachment. They clear snow from streets, highways and parking lots. They sometimes load snow into dump trucks for transport.
High-tip buckets are suitable for light materials such as chip, peat and light gravel and when the bucket is emptied from a height.
Unlike backhoes or standard tractors fitted with a front bucket, many large loaders do not use automotive steering mechanisms. Instead, they steer by a hydraulically actuated pivot point set exactly between the front and rear axles. This is referred to as "articulated steering" and allows the front axle to be solid, allowing it to carry greater weight. Articulated steering provides better maneuverability for a given wheelbase. Since the front wheels and attachment rotate on the same axis, the operator is able to "steer" his load in an arc after positioning the machine, which can be useful. The tradeoff is that when the machine is "twisted" to one side and a heavy load is lifted high, it has a greater risk of turning over to the "wide" side.
Actually there is another class of loader - the track loader. It would be nice to either list it with the wheel loaders and backhoe loaders on this page, or start another and link it here. Track loaders used to be very popular, especially for digging basements for residential homes. That job now goes mostly to excavators.
Wheel loader, rated load 1.0-8.0 ton, CAT/Cummins engine, ZF transmission, Meritor/ZF axle. Main type, under mine type, normal type.
Now the best-seller model feature is: Fully hydraulic powered steering with flow-amplified system. Pilot operated control for loader hydraulic system, power shift transmission makes convenient and flexible operating.
new Z-bar linkage, high breakout force, shorter hydraulic cycle time, automatic leveling on any position, and greater productivity.
Special quadrate type transmission shaft of construction machinery. Power transmission is more reliability.
EG-TM combination is supported on three points by dual directions, vibration-isolators. Reducing resonance and fatigue failure of structure.
Optimized structure of diesel engine air intake system reduces dust into air filter. Prolonging the durability of engine, convenience the service of air filter element.
Optimized cooling system, drops overall heat balance temperature Integral operable hood, made by compound material, reduces noise and vibration, makes convenient and flexible operation and service.

Chinese wheel laoder model list:
Chinese wheel loader LG938
Chinese wheel loader LG936
Chinese wheel loader LG958
Chinese wheel loader LG956
Chinese wheel loader LG968

SDLG Introduction:
Initially founded in 1972, (SDLG) is a national large-sized backbone enterprise in construction machinery industry and is listed in Top 100 China's Enterprises in Mechanical Industry and listed as a national-level high-tech enterprise. The leading products include earth-moving scraper and excavator series, road machinery series, mining truck series, and small-sized construction machinery series.
SDLG undertakes the core concept of "Reliability in Action" and strives through continual innovation to provide more reliable products and services and maximize the sustained value return to the customers. SDLG established state-level R&D center and postdoctoral workstation, undertook multiple scientific research tasks of National 863 Program and provincial-level programs, and obtained more than 50 national patents. SDLG maintains good cooperation relationship with domestic key colleges and universities and research institutes and established open and efficient technical cooperation and innovation system.
SDLG boasts advanced production facilities and complete management system, passed the ISO 9001 quality management system certification, and obtained the Export Product Quality License and the qualification certificate for import & export enterprise. With high quality and excellent services, the SDLG's products are distributed to all regions nationwide and are exported to scores of countries and regions.
"Building a globalized SDLG and establishing a trustworthy brand", SDLG will always insist on the product diversification strategy centered on construction machinery, push the continual improvement, continually enrich the production lineup, promote the product quality and brand reputation, and build a domestic first-class and international renowned construction machinery base.
China Wheel Loader Brands: SDLG wheel loader,Changlin wheel loader,SEM Wheel Loader, Liugong wheelloader, XCMG wheel loader, XGMA wheel loaders, Lonking wheel loaders, Shantui wheel loaders. Spare Parts available as well.